Why Should You Invest in Galt Ocean Mile?
Galt Ocean Mile real estate is going to see massive growth in its value due to the fast-paced development and premium ocean side location. But, there are tons of other reasons why it is a major point of interest for real estate investors. This post is going to help you understand the background of the Galt Ocean Mile and why it is going to be the next big thing for real estate investors. So without further ado, let's start:
A Background of Galt City: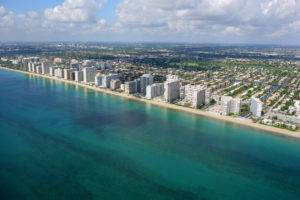 The story of Galt Ocean Mile started in 1913 when a Chicago lawyer, Arthur Galt bought a massive 8,000-acre property. And because his last name was 'Galt' the piece of property was named Galt as well. So after 30 years, in 1953, Coral Ridge properties bought a piece of land from Arthur Galt for around $19.4 million. This area consisted of the Fort Lauderdale north from the Sunrise Boulevard between the United States 1 and Intracoastal Waterway north towards Floranada Road with an ocean frontage north of the Oakland Park Boulevard.
At that time, this was considered as the largest development in real estate ever recorded in Sunshine state. As the sections of the land were developed, the owners of the sections annexed them to the city. The first piece of the land of oceanfront was divided into 22 lots that were 200 feet wide. The first eight lots located to the south end of the Galt Ocean became what is known as 'Mile' in 1955.
That was the starting point of further development as hotels and buildings started to get developed from then, and the first hotel at oceanfront was the Galt Ocean Mile Hotel. After that several properties were built including Ocean Manor which was the first beachfront high-rise hotel. The mile became a tourist hot spot that resulted in its fast development.
Some Prominent Galt Ocean Mile Real Estate:
There are several highly popular high rise condominiums located in the Galt Ocean Mile where many of the popular Hollywood stars like Dean Martin, Johnny Carson, Liza Minnelli and more have homes. Some of the high rise condominiums in the Galt Ocean Mile are:
Edgewater Arms:
The building consists of 86 units with one, two and three bedrooms along with two penthouses. All of the units have a direct ocean view, and the sizes of apartments range from 839 to 4430 sq. Ft. The building contains amenities like car wash area, pool, storage rooms, reading room, two elevators, shuffleboard, cable TV and more.
Galt Towers:
A 15 story building that was constructed in 1967 is one of the most highly popular condominiums in the Galt Ocean Mile. It contains amenities like parking for up to 370 cars, heated swimming pool, car wash area, library, BBQ and picnic areas, laundry facilities and more. The building has 24 hours security and cameras are also installed.
Galt Ocean Club:
It is a luxury residential condo that is located at the oceanfront and is nestled in the middle of Galt Ocean Mile. The pink sidewalks of this tower lined with palm trees make the whole view just mesmerizing. There are different nearby facilities including banks, grocery store, restaurants, retail establishments and more. Some of the amenities of this tower range from the pool, wet bar, Jacuzzi to the gym and private court.
L'Ambiance:
Located right on the Ocean Mile beach, it is a full-service resort style condo with heated ocean side pool. It has a long list of amenities including but not limited to the wine room, fitness center, valet and more. It is at a perfect location of Fort Lauderdale allowing you to walk to a restaurant, grocery store, salons, art galleries and tons of other facilities.
Ocean Manor:
Located directly on the sand of Ocean Mile, it encompasses privately owned suites but can also be rented out as the part of the hotel income program for people who want to earn from their properties. The condo encompasses amenities like salon service, 24-hour valet, coffee shot, heater poo, Tiki bar, private cabana and more.
There are many other condos in the Galt Ocean Mile real estate that make it a pretty hot stop for making an investment.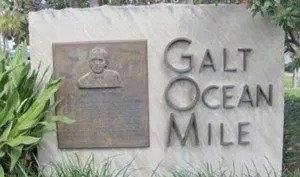 Why Should You Invest Now?
There are tons of reason why one should be thinking about making an investment in the Galt Ocean Mile real estate. Some of them are given below:
Near Florida Airport: The Galt Ocean Mile is just a few minutes away from the Fort Lauderdale airport that obviously increases its property's value and makes it a prime location for future investments.
Walking Distance to Amenities: Most of the amenities of Galt Ocean including Dining, shopping, entertainment, Broward Center of Performing Arts, and Las Olas Boulevard are located at the walking distance from the Galt Ocean Mile real estate properties.
Tourism Spot: Due to the fact that it is just like a paradise on earth with beautiful ocean facing condos and high rise hotels, the place is a center of attraction from people around the world. This makes it a very valuable place for getting a commercial property to open up a shop or provide a place to stay to the tourists and earn income.
Fast Development: Since 1955, nearly 19 buildings and 2300 condos have been built in the area that makes it one of the fast developing areas of Florida. So if you get a piece of property now, your property's value will increase in the future as more developmental projects are completed.
Near Ocean: Galt Ocean Mile is located just at the ocean, and the seaside is at the walking distance. On top of all, most of the condos of the area are sea facing that highly increases their value and that value will keep on rising with time.
So these are a few reasons why now is the time to invest in the area because even though there are tons of attractions here, many people still don't know about it. So before everybody starts to recognize its value and make an investment, you can avail the opportunity and get a piece of property.
Galt Ocean Mile Realtors Like Giovanni Crupi Can Help You:
If you are interested in making an investment in the Galt Ocean Mile real estate and cultivate greater returns in the future, you need Galt Ocean Mile realtors who understand the whole area and know which property is going to grow in value soon.
Luckily, Giovanni Crupi is in the Galt Ocean Mile's real estate game for years. He knows all the nooks of the area and can find the most profitable properties with the potential of massive growth in the future. You can contact him now to discuss your real estate purchasing needs.